Zach Williams with CAIN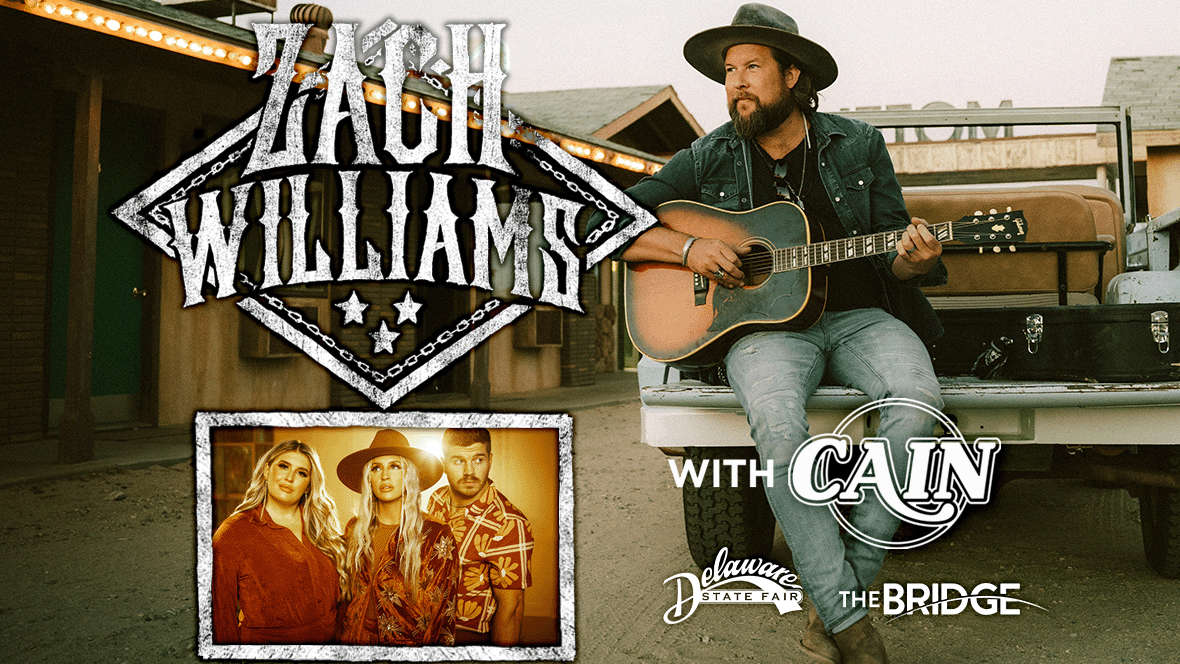 Time

7:30 PM - 10:00 PM

Venue

Delaware State Fair – M&T Grandstand, Harrington, DE, 19952

Price

$29 Grandstand - $34 Stadium - $39 Track - $64 Pit
Zach Williams at The Delaware State Fair with CAIN! General Admission Tickets are on sale now!
More Information (The Bridge is not responsible for external websites)
Zach Williams at The Delaware State Fair with CAIN! General Admission Tickets are on sale now!

Zach Williams at The Delaware State Fair with CAIN! General Admission Tickets are on sale now!
WHO:
Zach Williams with special guest CAIN
WHEN:
Tuesday, July 25th, 2023 at 7:30 PM
Doors Open at 6:30 PM
WHERE:
Delaware State Fair - M&T Grandstand
18500 S Dupont Hwy
Harrington, DE 19952
COST:
$29 Grandstand
$34 Stadium
$39 Track
$64 Pit
* Service fee will be applied at the end of the transaction.
General Admission Tickets Available
Through Delaware State Fair Box Office
ZACH WILLIAMS
Zach Williams' powerful and poignant journey spans how a boy with a storybook childhood filled with wonderfully nurturing parents, a strong and supportive grounding in the church, and a warm and loving local community was seduced away by the illusion of rock stardom, and the drug and alcohol excesses that can so often accompany that lifestyle.
These days, the Jonesboro, Arkansas-raised and currently Nashville, Tennessee-based artist is a renewed man. He's a husband, a father, and has also become one of CCM's leading artists and songwriters by carving a niche with his singular blend of southern rock, country, and faith-filled songwriting, which quickly awarded him his first GRAMMY Award® with his debut album, 2017's Chain Breaker. With two additional GRAMMY nods among numerous other accolades, he now returns to share his boldly vulnerable and hope-filled sophomore album, aptly titled Rescue Story.
Zach's music pulls from the hard luck truths of outlaw country, the dirt-road grit of southern rock, the contemporary roots music of alt-country artists, and a firm grounding in classic and contemporary Christian artists that stretches back to his dad's old Petra records. His songs enlighten and uplift, revealing powerful transformative moments and stirring affirmations to stay on God's path.
Most of all, thanks to his faith, Zach has gone a different way with his life. He's been blessed with a second chance with a loving family and a fresh start with music. "The biggest thing I'm grateful for is my relationship with my wife and kids," he shares. "Now, I won't play anywhere where they can't come along."
With this immense clarity of purpose given from God, he has also been blessed with a crisp and renewed vision of who he is as an artist and a songwriter. "I have a lot to say about what I walked through to get to where I am," he exclaims, which he also shares in his epiphanic journey throughout Rescue Story. It's an emotive album, brimming with goose-bump inducing moments of enlightenment, redemption, personal revelation, and of courageous self-reflection. This new collection of songs fit together much like a book, with each song being an essential chapter in the overarching narrative. Musically, the album further explores the distinct country and rock n' roll sensibilities that inform Zach's stirringly soulful songwriting.
Reflecting on his new album, and the blessings Christ has given him, he says: "When I gave my life to the Lord, I realized He never left me, even in the dark times. For this new album, the title fits because every song in it has a rescue story. When you're at your end of the rope, that's when your rescue story begins. In my case, Jesus has been my rescue story."
CAIN
Spend five minutes with the members of CAIN and you'll feel like you've spent the afternoon in the sunshine. The band's effervescent joy spills over onto each person they meet, their bright smiles as contagious as their chill-inducing harmonies. Pouring their perpetual joy into their debut album, 2021's Rise Up, CAIN - made up of siblings Madison Cain Johnson, Taylor Cain Matz, and Logan Cain - has discovered what it's like to live their calling while doing their favorite thing, singing about Jesus.
"Rise Up (Lazarus)," the band's first single, went No.1 at Christian radio for multiple weeks. Its country-leaning, worship-fueled, family-magic-harmonies have the listener singing along halfway through the first chorus. "There's a freedom that's been made available to us," Logan shares, "but we have to choose to walk in it. The voice of Jesus calls us like Lazarus from the grave." The response to the song has been, according to the band, the most fulfilling thing they've experienced since doing music full-time. "People taking ownership of this song, hearing stories of true miracles, it's my favorite thing about music and my life to this point," he says.
Fast forward to the end of their 2021 with more than 100 million music streams and being named by Billboard, BDS, and Mediabase as the Most Played Artist on Christian radio. Also, add American Music Award (Favorite Inspirational Artist) and GMA Dove Award (Best New Artist) nominations along with their K-LOVE Fan Award win. And with the release of their first-ever Christmas EP Wonderful, which offers duets with industry legends Steven Curtis Chapman and Mac Powell, the project also made American Songwriter's "not to miss" top 15 holiday albums for the season.
With touring back in full swing, CAIN has been loving the numerous opportunities to share their songs live. Sharing the stage with the likes of Zach Williams, We The Kingdom, and Casting Crowns, they'll join TobyMac's 2022 Hits Deep Tour followed by a spring run with Matthew West. Hitting the festival season next summer, they'll close their 2022 with Casting Crowns and Anne Wilson on a nationwide tour.
Hearing their songs live, in the car or at home, listeners will be blessed by the songs of CAIN - music made of hard-won hope that radiates the kind of eternal happiness only found in the goodness of God.
Venue
Delaware State Fair – M&T Grandstand
18500 S Dupont Hwy
Harrington, DE
19952
Dates
The event runs from 7:30 PM to 10:00 PM on the following dates.
Select a date to add this event to your calendar app.