Listen To The Bridge on Devices with Amazon Alexa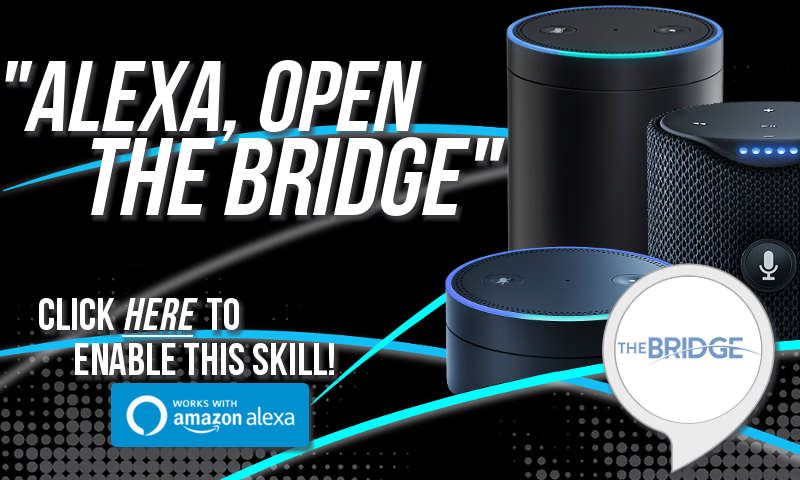 Listen To The Bridge on Devices with Amazon Alexa
You can now stream The Bridge on devices with Amazon Alexa. Listen to your favorite contemporary Christian music, and catch all your favorite shows.
First things first! Just say "Alexa, ENABLE The Bridge" so Alexa can play The Bridge for you.
When you want to listen – just say "Alexa, OPEN The Bridge." -or- "Alexa, PLAY The Bridge."
It is really that easy!
Whether you have an Echo Dot, Echo, or another Amazon Alexa-enabled device, it is very easy to get started with Amazon's virtual assistant. First, turn it on. The device walks you through the setup process. To get the most out of your Amazon Alexa-enabled device, you'll want to get familiar with the Alexa app settings. You can customize what Alexa does — and what it does not do.
To access Alexa settings, download and open the free iOS or Android Alexa app. You can also log in with your Amazon account information to the website alexa.amazon.com. Next, select Settings in the menu. You are presented with a list of all of your devices that offer Alexa. Some settings are specific to each device, while others apply to all of your devices that use Alexa.
Amazon.com Help provides several guides based on which device you use.
Set Up Your Echo Dot
Set Up Your Echo (1st Generation)
Set Up Your Echo (2nd Generation)
Download the Amazon Alexa App