Local Family Wins $1,000 Gift Card Bouquet Listening to The Bridge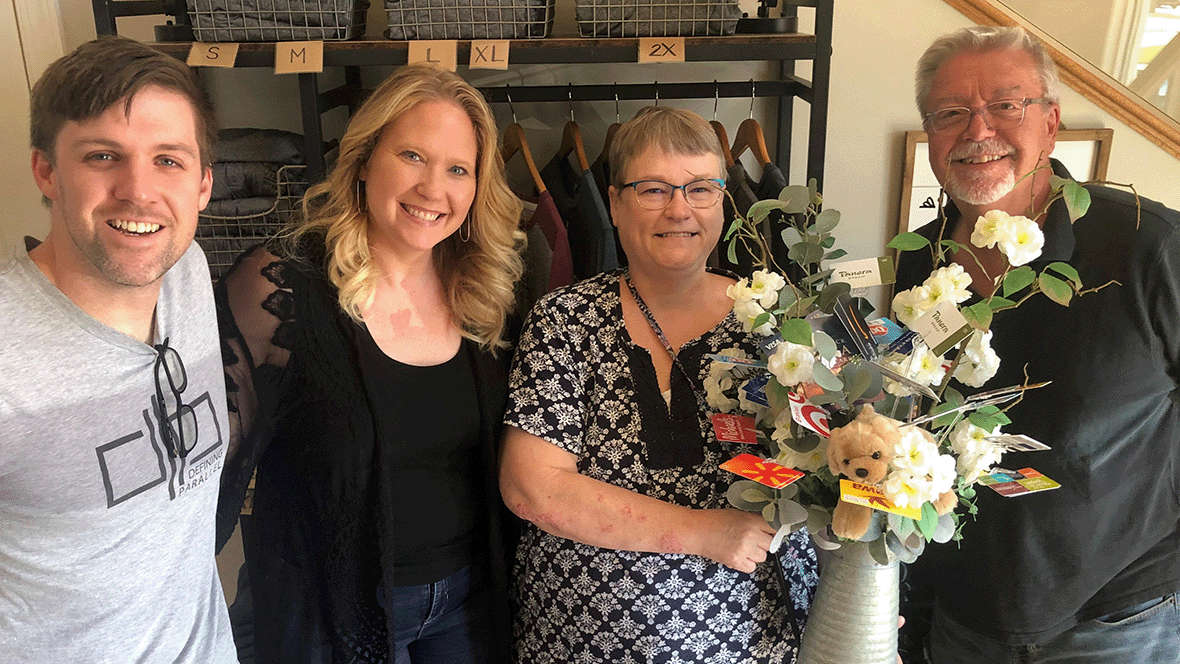 Wendy Mears of Georgetown, Delaware is the grand prize winner of $1,000 in gift cards from The Bridge, the local Christian radio station serving Delmarva and South Jersey. She received the bouquet overflowing with gift cards at The Bridge Office & Studio in Milford, Delaware.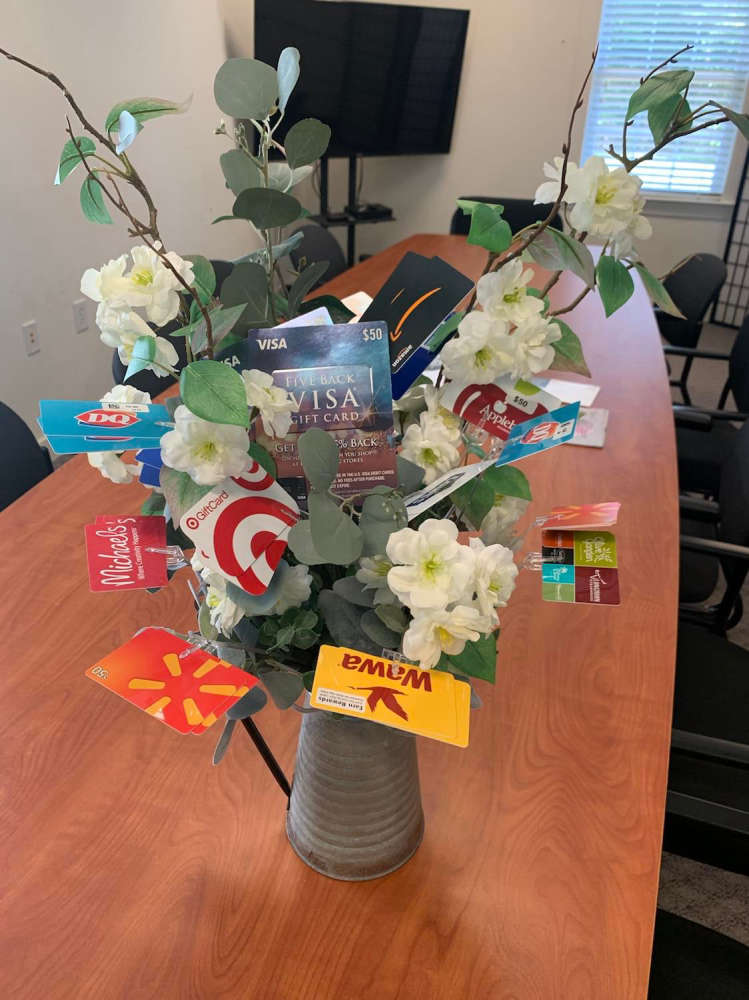 The Bridge's Morning Show host Bill Sammons, Afternoon Show host Mark Dickey, and Community Engagement Specialist Mandy Wallace congratulated Wendy Mears on winning the prize. Over 3,700 unique entries arrived during The Bridge's $1K Bouquet Gift Card Giveaway contest. On-air hosts gave clues to help listeners find DJ the Dog, The Bridge's mascot, hidden on the radio station's website. Participants could find DJ in a new location each weekday in May, and were eligible to enter the contest once per day. The Bridge broadcasts to the entire Delmarva Peninsula on two frequencies—88.7 FM and 92.5 FM, and southern New Jersey on 105.5 FM. Hear the station online and with the free Bridge Mobile App available at wearethebridge.org.
Special thanks go to Byler's in Harrington and Dover for making this contest and grand prize giveaway possible through their generous sponsorship of The Bridge. The $1K Bouquet included gift cards from Amazon, Applebees, Best Buy, Dairy Queen, Lowes, Michaels, Olive Garden, Panera Bread, Royal Farms, Starbucks, Target, Visa, Walmart, and Wawa. The largest portion of the prize went toward gas and food which is a difficult budget item for many to cover.
The Bridge is a non-profit, community-supported radio station that plays a mix of Adult Contemporary Christian Music, with an emphasis on local people, local issues, and local events. On-air hosts are always entertaining for listeners of every age category, and encourage unity amongst Delmarva's population. The station is a source of strength to assist the listener's daily walk with the Lord.
The Bridge of Hope, Inc. operates the ministry and comprises 88.7 FM (WKNZ) in Harrington, DE, 92.5 FM (WNKZ) in Pocomoke City, MD, and 105.5 FM (WNJH) in Cape May Courthouse, NJ. The station is the Eastern Shore's only locally originated full power Christian radio station.