2023 Best of Delaware Announcement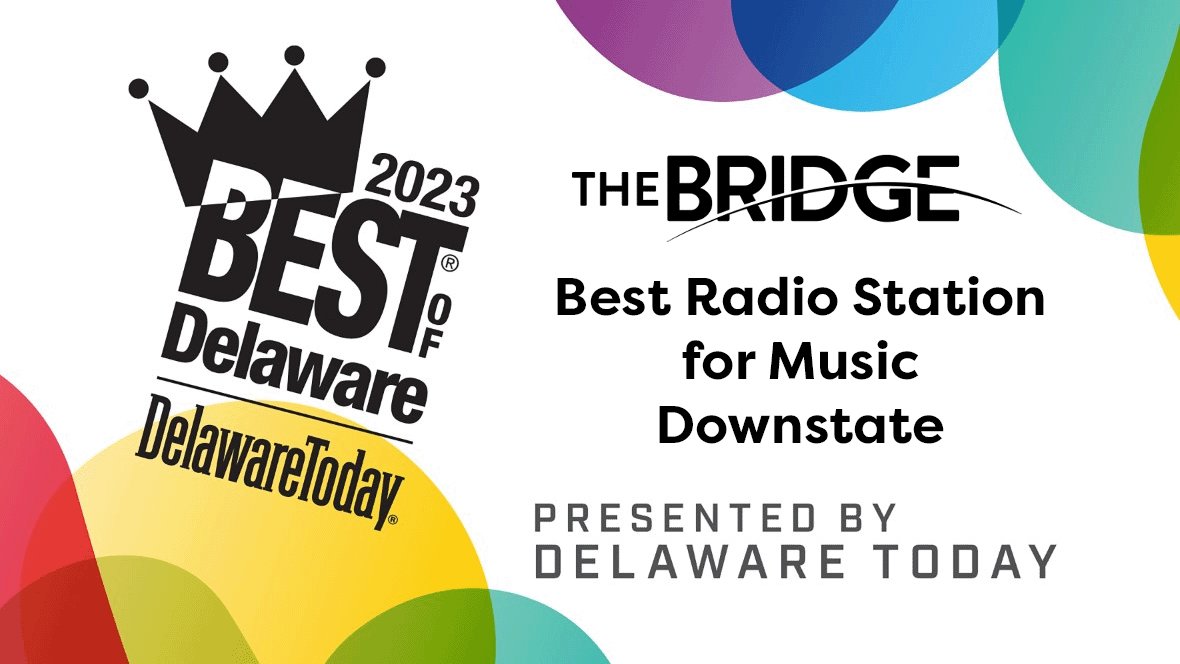 The Bridge Named Best Radio Station for Music Downstate by Delaware Today
Delaware Today readers have selected the Best of Delaware winners again and everyone is excited to learn who won. Across Delmarva, the best radio stations are selected by listeners in their community who tune in each day. This year, The Bridge was named Best Radio Station for Music Downstate. Every Best of Delaware 2023 winner is presented in the July issue of Delaware Today magazine – on newsstands now.
Each year, Delaware Today identifies companies that its readers believe have achieved exceptional success in their local community and business category.
The Bridge is a Delmarva-based radio station serving Delaware, Maryland, the Eastern Shore of Virginia, and South Jersey. The Morning Show hosts Bill Sammons and Denise Harper started doing radio together in 1991, and were reunited in 2010 when The Bridge was launched.
The radio station is a positive alternative that focuses on stories that encourage people, according to Sammons. "We try to provide four hours of music and talk that produces a calming effect in a world that often feels chaotic", he said. Harper said "our morning show is never angry or divisive, and we try to provide a positive atmosphere for families. Our goal is to connect and unite people rather than divide them."
The station plays a mix of Adult Contemporary Christian Music, with an emphasis on local people, local issues, and local events. On-air hosts are always entertaining for listeners of every age category, and encourage unity amongst Delmarva's Christian population. The station is a source of strength to assist the listener's daily walk with the Lord.
As the radio industry continues to change with the development of new technologies, The Bridge is at the forefront of cutting-edge technology which keeps the station useful and relevant in today's culture. Amazon Alexa and Google Home device users can enable The Bridge and listen anywhere in the world, with a digital 24/7 Live Stream of our broadcast.
In addition to broadcasts and podcasts, The Bridge also serves Delmarva, South Jersey and beyond with a variety of projects. The Bridge has adopted a village in the Dominican Republic known as La Union Abajo, and regularly provides funding to help residents, including building a bakery and sewing center to provide a skill and income to young men and women.
Locally, The Bridge coordinates Hands & Feet, a day of service to other non-profit organizations with several hundred volunteers, and The Bridge helps connect and strengthen the community through special events such as concerts, seminars, food distributions, the Drive Thru Connection, online Prayer Works, and much more.
Bill and Denise are former winners of the Best Radio DJ's Downstate in 2017, 2018, and 2019. The Bridge won Best Radio Station for Music Downstate in 2016, 2018, 2019 and 2020, along with other awards including small market Station of the Year from the Christian Music Broadcasters Association.
The Bridge is a non-profit ministry (501c3) operated by The Bridge of Hope, Inc. and consists of WKNZ, 88.7 FM, Harrington, DE; WNKZ, 92.5 FM, Pocomoke City, MD; and WNJB, 89.3 FM, Bridgeton, NJ and WNJH, 105.5 FM, Cape May Courthouse, NJ. The station is the Eastern Shore's only locally originated full-power Christian radio station.