Day 2: Hymn of Heaven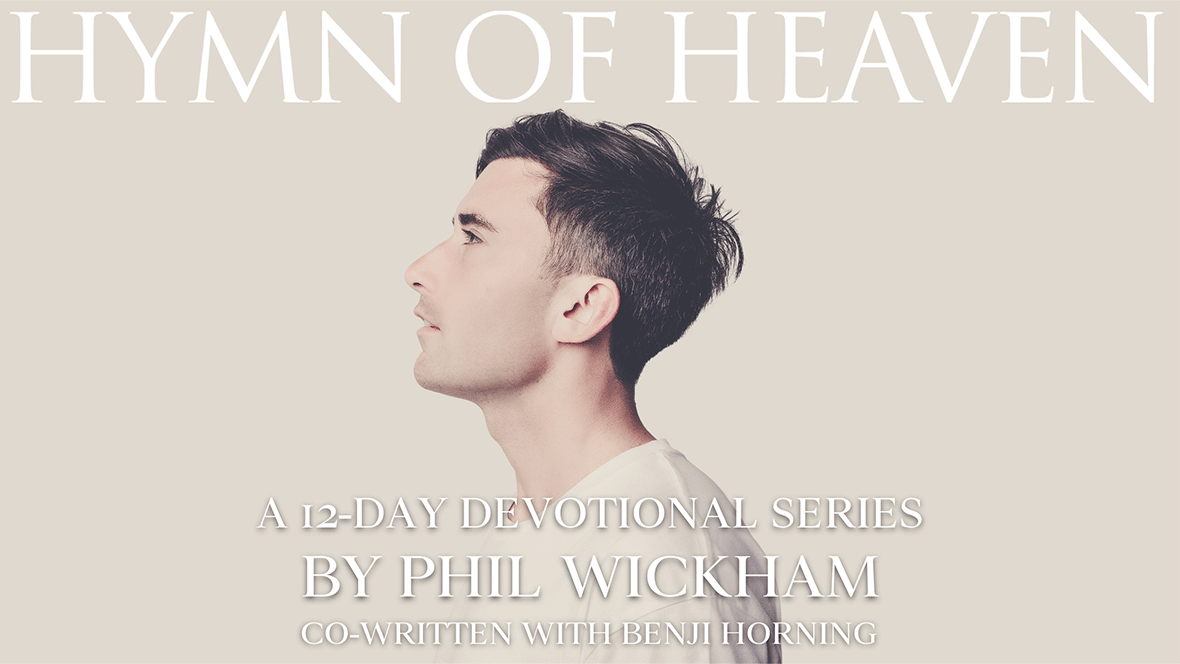 Day 2: Hymn of Heaven
Matthew 6:9-13 / Revelation 19:1-7 / Philippians 3:20
What a beautiful thing it is that we who follow Jesus have so much in common on such a deep level. We cry out to the same Savior, pray to the same Father. We are citizens of the same kingdom, belonging to the same family. And we all share the same hope of a future in heaven. I have found that there is so much power in the moments when the church gathers to sing of that hope—not just power that lifts our souls and builds our faith for the future, but also encourages us to live for that future today. When the disciples asked Jesus how we ought to pray, He said to pray to the Father, "Your kingdom come, your will be done, on earth as it is in Heaven" (Matt. 6:10).
Time after time, Jesus showed us that belonging to the kingdom of heaven offers, not just a future hope, but a kingdom that we can be a part of today. We can walk in His Spirit, stand in His victory, and move in His love today. This truth is why my song "Hymn of Heaven" has two different choruses. One looks to the hope of our future in Jesus. The other prays to let that hope fill our spheres of influence right now.
The Apostle Paul, while in prison, wrote to the Church in Philippi, amidst their own persecution, that "...our citizenship is in heaven" (Phil. 3:20).
C.S. Lewis wrote in his book, Mere Christianity, "If you read history you will find that the Christians who did most for the present world were precisely those who thought most of the next."
Here are a few ways we can live differently today because of our future heavenly hope and our present kingdom mission:
1. While reading Revelation 20:1-7, imagine the beauty of what it will be like when we are finally home. Focus on the greatest joy of all: being united with Christ for all eternity.
2. Make a commitment to pray the Lord's Prayer each morning as you plan your day. Ask God how He might want to bring the heavenly reality of His kingdom through you today.
3. Be honest with God about the pain and longing in your heart in the midst of this broken world. Firmly place your hope in Jesus while experiencing the comfort of the Holy Spirit.
The 12-day plan can be found here or on the YouVersion app.

Phil Wickham is...
Since his self-titled debut in 2006, Phil Wickham has emerged as a leader in the modern worship movement, penning countless songs sung in churches around the world. His RIAA Gold®-certified single, "This Is Amazing Grace," was his first career No. 1, holding the top spot for 13 consecutive weeks and named Billboard's No. 1 "Christian Airplay Song of the Year" in 2014 and BMI's "Christian Song of the Year" in 2015. His anthemic "Living Hope," also RIAA Gold-certified, earned him a GMA Dove Award for "Worship Recorded Song of the Year" in 2019.
His latest project, Hymn of Heaven (June 25, 2021, Fair Trade Services), was written during a year when the family of God couldn't physically gather in houses of worship around the world. "Hymn of Heaven is full of praise and thankfulness, just lifting up the name of Jesus and speaking what we really know the reality is even though we don't see it," he says. "All I want to do is facilitate moments where people can encounter the presence of God." The album's first single, "Battle Belongs," had already topped five different radio charts for multiple weeks.
Wickham's music has received hundreds of millions of streams across his catalog and platforms, with his discography including eight full-length projects, multiple Christmas releases, and a series of popular Singalong records that capture Wickham's songs doing what they were always meant to do—giving people language to sing to God. To find out more, visit PhilWickham.com