Reflections from the Dominican Republic Mission Field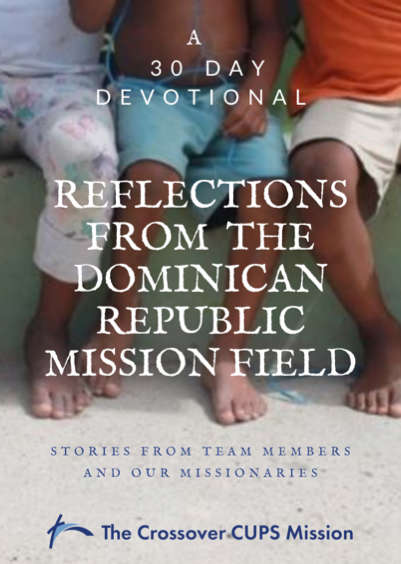 The Bridge is excited to announce the publication of a new book from The Crossover CUPS Mission! Reflections from the Dominican Republic Mission Field, 30 Day Devotional thoughts from team members and missionaries who have been a part of the Cups Mission.
Included in this 30 Day devotional are stories from The Bridge Team Members including Denise Harper, Mandy Jean, Brenda Hanes, Susan Sorrells, Robert Wilson and station friends Jack Eason and Mike Williams.
Proceeds from this edition will help enroll children who are at risk for child exploitation and human trafficking into our educational programs.

About an hour and a half off the coast of Florida lies the Dominican Republic - it's known for its beautiful Caribbean landscape as a popular tourist destination, but it's also full of people struggling to make it each day.
Many Dominicans live on less than $2 a day. With little money, many people have to go without meals, new clothes, and education. These vulnerabilities leave people desperate for work that will provide money, but it's hard to secure a job without an education. That's when human trafficking comes in.
As is true with any tourist destination, there's a demand for exploitation of young boys and girls. Some of these children are lured into the industry by promises of a better life and some choose to do it themselves because they feel they have no other choice.
The Crossover CUPS Mission is intentional about fulfilling their purpose to rescue a child, transform a family, and do it again tomorrow! You can join The Bride on a future mission trip to La Union Abajo in the Dominican Republic by completing the Mission Trip Inquiry Form.